At Capacity
2020 Fall Stamford Kickball (Sat) Kickball · Co-Ed Social
Sold Out
MonTueWedThuFri
Sat
Sun
12:30pm to 2:30pm
9/19, 9/26, 10/3, 10/10, 10/17, 10/24, 10/31 & 11/7
Team Fees

Regular

$65.00

per player + $2.00 Processing Fee
Free Agent Fees

Regular

$65.00

+ $2.00 Processing Fee
New Rules For Fall Kickball -
1. Strikes and Fouls are the same. Any combination of Fouls or Strikes that total 3 is an out
2. 3 Balls are a Walk
NEW COVID-19 KICKBALL RULES -
3. Catchers must stand 6 feet behind the kicker and on the opposite side of the Umpire

4. Umpires must stand 6 feet behind the kicker to the opposite side of the Catcher
5. Umpires will stand 6 feet behind the kicker whenever possible
6. No bunting is allowed (contacting the ball without fully extending the leg)
7. A bunt is an automatic foul ball which can be caught in the air for an out
Official Super Saturday Schedule -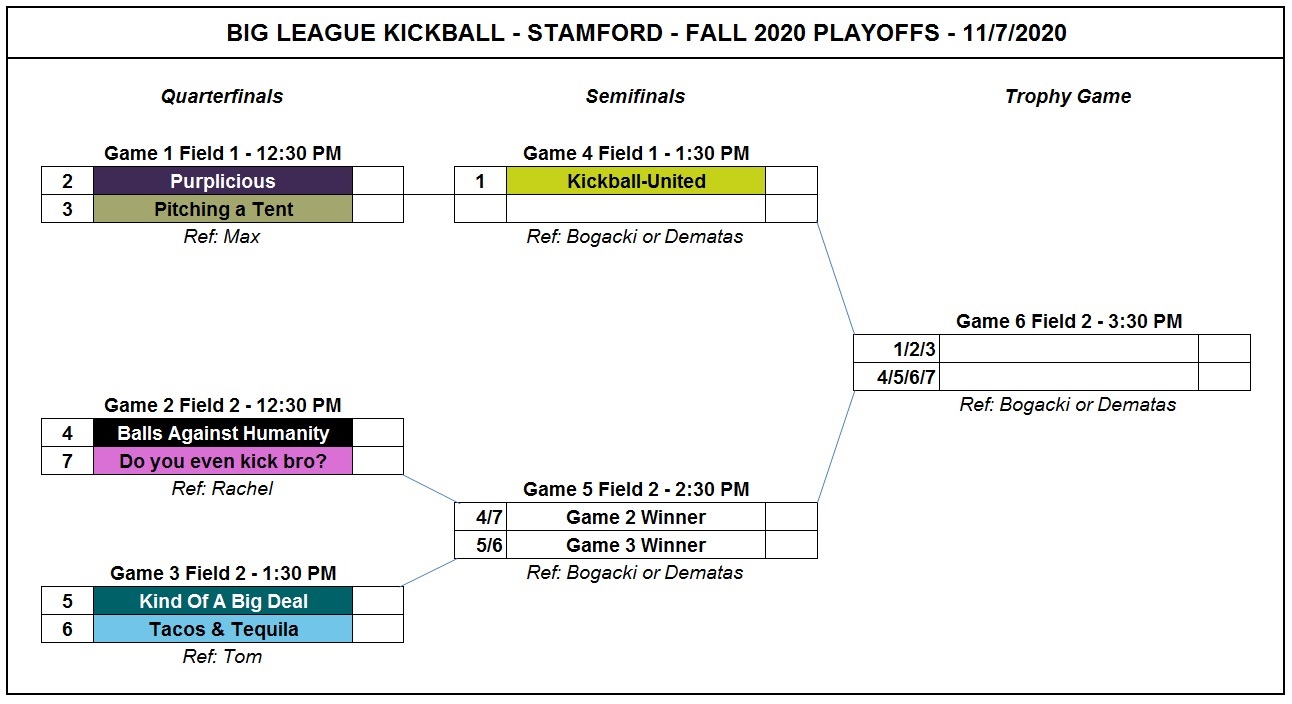 Standings After Week 7 -

the Benefits of Playing Stamford BL Kickball -
* YOUR SAFETY COMES FIRST - Our Big League Staff is qualified and experienced in successfully running leagues after reopening due to COVID 19
*Big League Stamford Registration Fee will remain the fantastic price of $65

* We are providing paid refs

* All teams MUST have a female pitching

* If you are short a player(s), you may borrow players from other teams in the league if the opposing captain approves those players.

* As usual BLK Captains Play For Free when signing up a full team of 15 or more players.

* Join us for Big League Player Appreciation Night on September 2nd for a free night of Bowling at Bowlmor Nowalk. Please see details below.


YOUR SAFETY COMES FIRST
Big Leagues Sports works closely with our venues to make sure that your safety comes first in all of our leagues. We follow State, Local and CDC Guidelines.




Big League Perks - All fall registered kickball players can enjoy a free night of bowling and having fun with Big League Sports.




Goto www.playbigleaguesports.com to join the action.